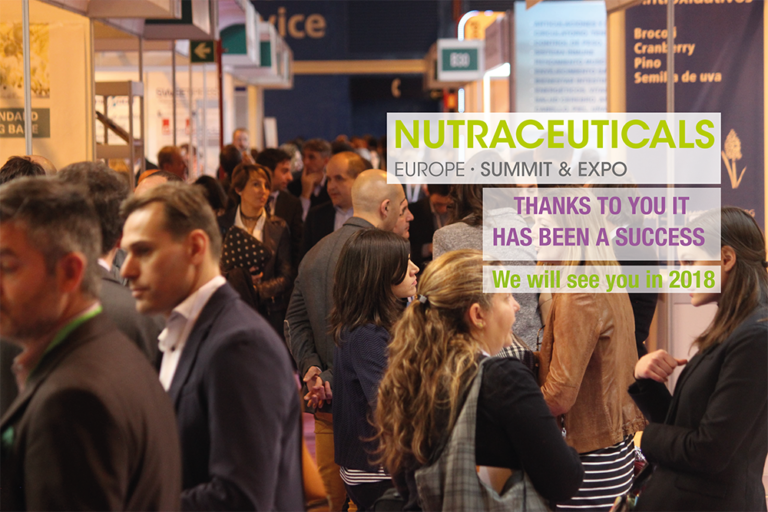 The event opens its doors for the first time with a resounding success bringing together in Madrid more than 1994 professional visitors from 25 countries.
The high level of the scientific congress and the content of the spaces of corporate divulgation, NTC Next and Seminar Theater, have been the pillars of a call with an excellent future.
The participation in the project of the main associations of the sector, both national and international, as well as the support of the Ministries of Industry, Economy and Competitiveness – Health, Social Services and Equality and Agriculture, Fishing, Food and Environment, demonstrate the solidity of the project.
Premiere with future guarantees
The contest Nutraceuticals Europe, organized by AUDE BUSINESS EVENTS, closed its first edition with the full satisfaction of all participants. The sixty exhibiting companies, which received more than two thousand visitors from 25 countries, have shown their satisfaction and augur a great future for the initiative.
In addition to the good commercial results derived from the high quality of the visitors of the contest, the participants agree that the personality of the call, clearly focused on the contribution of knowledge, is one of the main factors of differentiation and its main attraction.
Nutraceuticals Europe, fully transversal call
Having the functional ingredients as a backbone, Nutraceuticals Europe has managed to captivate professionals with a high managerial profile such as, CEOs, R & D, Business Development, Technical Directors, Product Managers, …
This aspect, which was highly valued by the exhibitors, has been complemented by the unanimous response of the sectors invited. Food Industries, beverages and dietetic products, pharmaceutical industries and cosmetic laboratories, have come to an innovative meeting fully transversal.