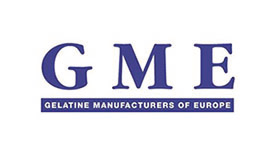 The association representing the food supplement industry in Belgium and the European Association of gelatine manufacturers joined the event as partners.
In the first edition of Nutraceuticals Europe, more than 25 organizations collaborated as partners, both national and international. All the organizations continue the collaboration in the dissemination of the call outside our borders.
Gelatine Manufacturers of Europe (GME)
Jelly, a polyvalent protein, used in various sectors for a wide range of products is very important for the pharmaceutical industry. The Jelly is one of the starting materials for innovations in a wide range of sectors, especially for those who seek to protect health, nature and the environment in a sustainable way.
Founded in 1974 by leading European gelatine manufacturers, the GME association is an important platform and the number one voice in the gelatine industry. It has the support of the industry. The Brussels-based association currently consists of 11 members, and represents almost 100 percent of the European gelatine production. This counts for one third of the global gelatine production. Since GME's foundation, the industry, the socio-economic environment and the legal framework have evolved.