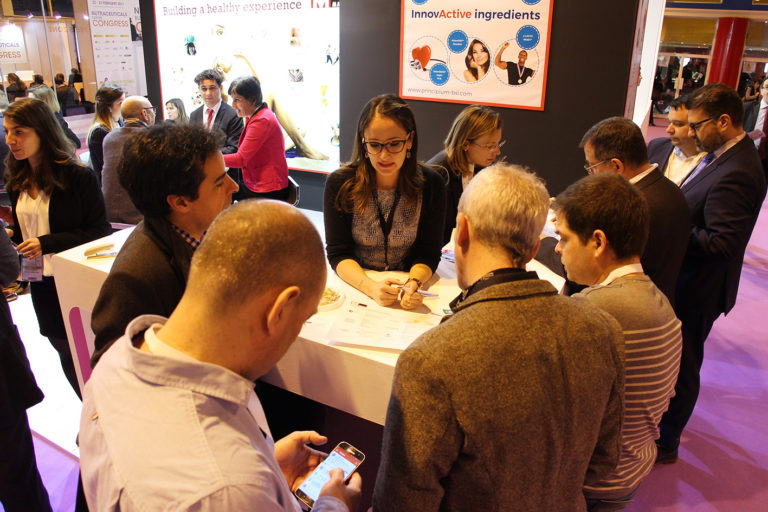 The 100 participating companies in the event have received the visit of more than 2000 professionals.
The Scientific Congress, NTC Next Conferences and Seminar Theatre have given impulse, once again, to the innovation, the science, and the knowledge.
The second edition of Nutraceuticals Europe – Summit & Expo, which closed its doors las week, brought together in Madrid 100 companies of the nutraceutical sector; producers and marketers of functional ingredients, novel ingredients, technology and services for the manufacturers and research professionals, food and functional beverage, food supplements, nutricosmetics and pharmaceutical products.
The event, which was held at the Pavilion 2 of Feria Madrid, has brought together more than 2000 professional visitors with high managing profile such as, CEOs, general managers, managers, R&D directors, business development, technical directors, product directors.
CONFERENCES AND INNOVATION
The extensive educational content had more than 50 speakers and nearly 500 participants.
Nutraceuticals Europe Summit had covered the educational aspect of the event through its two complementary forums. On the one hand, Nutraceuticals Europe Congress has been the backbone of the scientific content of the event, dealing with topics of maximum actuality around the functional and novel ingredients. And on the other hand, NTC Next Conferences, where the leading companies of the event had presented their latest advances in research.
The participating companies had shared their latest advances in the Seminar Theatre giving visibility to their business development.
THE EVENT OF THE SECTOR
Nutraceuticals Europe is consolidated, in its second edition, as the international event for the functional ingredients industry and novel ingredients. The professional meeting point for producers, distributors, and their customers.
Twenty-five institutions, representatives of the supply sector and demand of eight countries, have given their explicit support to the event, collaborating and the dissemination of the call and in the elaboration of the formative content of the event.
NEXT APPOINMENT
The organizers confirm that the 3rd edition of Nutraceuticals Europe – Summit & Expo will be held again in Madrid, in February 2019.