Palacio Municipal de Congresos de Madrid
Exhibit dates & opening times
4 and 5 March 2020 – 09.30h to 17.30h
Registration at ticket office
VIAJES EL CORTE INGLÉS
Phone: +34 699 348 165
Timetable: from 9:00h to 14:00h and from 16:00h to 19:00h
[email protected]
Nutraceuticals Europe is an event exclusively targeted at professionals. Children under 16 will not be allowed to enter the trade show, including if they are accompanied by an adult. Professionals from industries other than the target audience will not be allowed to access the trade show. Target audience.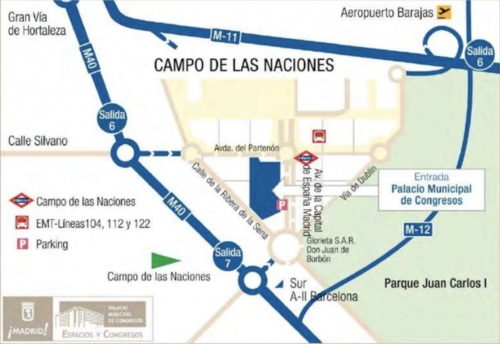 Line 8 – Nuevos Ministerios/Barajas – Campo de las Naciones Stop.  Line 8 also connects the convention center to the different terminals at Barajas International Airport.
A wide bus network allows visitors to reach the convention center from the city:
Bus 122 – Intercambiador Avda America
Bus 112 – Glorieta de Cristal
Bus 828 – Cruz de los Caídos
Palacio de Congresos de Madrid is accessible by car through Madrid's main access roads and beltways:
M 11 (Exits 5 and 7)
M 40 (Exits 5, 6 and 7)
A2 (Exit 7)
With taxi stands at every Gate, more than 15,000 taxis are at the service of visitors.
Madrid-Barajas Airport is just 10 minutes away from the convention center and barely 15 kilometers away from the city center by subway.
Station: Aeropuerto T-1, T-2 and T-3